In June the TERRITORY's and Bertelsmann's 2021 "be green Day" campaign has started again. This year's motto is "Act green, live healthy. Climate Neutrality 2030 – only with you!" The aim is to digitally compile as many contributions to climate protection as possible from employees around the world
Bertelsmann has set itself an ambitious climate goal. It encompasses many areas in which the commitment of employees is also required. Bertelsmann, therefore, seeks to set an example and advocate for a more sustainable future under the heading "Act green, live healthy. Climate Neutrality 2030 – only with you!"
Be Green Day
The "be green Day" campaign runs until November 12. As in previous years, the "be green Day" world map is the central platform for showcasing the efforts and inspiring employees to take action themselves. What's new is that from now on all employees can enter their own personal contributions to climate protection on the world map, too. Whether they replace their car with a bicycle for a week, consciously buy regional and seasonal food, or switch to green electricity – every contribution counts. Chief Human Resources Officer Immanuel Hermreck has already posted his personal climate protection plans on the website. "I'm excited to have a lot of colleagues participate in our campaign again. Together, we can achieve a great deal." All entries are made anonymously and are counted for the company's location. The world map allows for tracking how many contributions were made and which locations are particularly committed. The campaign includes several "challenges" with attractive prizes to be won.
Climate Neutral By 2030
Bertelsmann will become climate neutral by 2030. By then, greenhouse gas emissions are to be reduced by 50 percent compared to 2018. Bertelsmann will gradually offset remaining emissions from its own sites, employee business travel and product-related emissions with voluntary climate protection measures by 2030. In March 2021, the independent validation of the climate target by the Science-Based Targets Initiative (SBTi) was successfully completed. The SBTi confirmed that Bertelsmann's climate target is ambitious and in line with the 1.5° target of the Paris Climate Agreement.
If you would like to know more about the Climate Protection Strategy, you'll find more information here.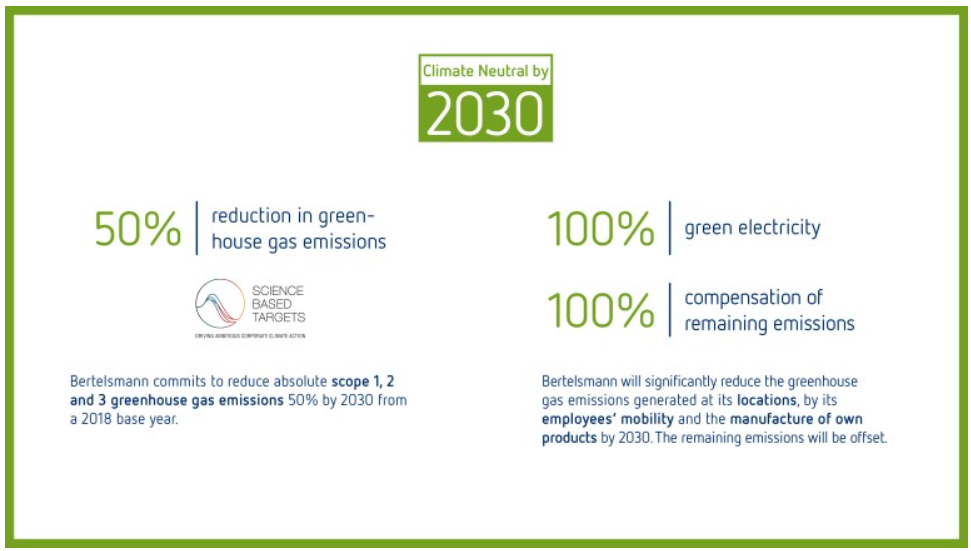 We as TERRITORY Influence are happy to be part of this journey. Let's start being greener and healthier at work and at home. In case you are looking for an employer with green ambitions, check out our open positions.
If you want to know more about how to start a more sustainable lifestyle with some easy hacks, check out our latest influencer campaign with LENA – a platform that show you tips and tricks to be more sustainable in your everyday life. Have fun exploring!