From a photo-sharing app to a virtual shopping mall, Instagram never ceases to push the e-commerce trend further. Social commerce never stops growing. It has exploded these last years with $492 billion in global sales in 2021 and won't stop as it is expected to triple to $1.2 trillion by 2025. More and more social media offer in-app shopping but Instagram is according to us the platform doing the most of it.
Instagram shops
Instagram Shopping is a big business. Over 130 million users tap on shoppable Instagram posts every month even without influencers and creators in the mix. We all know Instagram shops such as the famous brand Kylie Cosmetics (beauty) or even small creators' that were discovered on the app. This possibility for businesses to showcase their products directly through the social platform allowed them to not lose customers that were being lazy to look for the goods online but also to expand their audience. When this option was not available, if users were really interested in a product seen on the networks, they would have to leave the app to do an internet search, find the brand, then item and finally make their purchase. Now not only can we consult the product catalogue directly on the app, but we can also directly check a product sheet via a tag on the photos, reels or stories (US only for now).
Affiliate on Instagram: "Recommend products and get paid for it"
Instagram recently updated its "Affiliate" feature. Before the march, only businesses and creators were able to add product tags on in-feed posts in the US. This tool also gave them the opportunity to launch a curated shop pinned on their profiles with product listings they recommended of participating brands. In that way, when users click on the products and check out on Instagram, the influencers who posted them get a commission from 6% to 20% for the sale. In March, the social media announced that tagging products will be available to everyone not necessary influencers & brands, in order to make it easier to share products on the app. "It's never been easier to start getting paid for sharing what you love with your community." From supporting brands that consumers love to helping their friends and family discover new products they may like; Instagram is now giving access to everyone to tagging in posts. The feature is still in trial in the US with a team of influencers and brands like Zara, Sephora, and Revolve…
The benefits:
This innovation is a great opportunity for all the protagonists.
At the moment, only a limited number of creators can tag brand products in their posts. But in the future, users that tag products will most likely get paid. Indeed, Instagram talks about receiving commission payments based on the total sales they drive for a brand. Instagram turns influencers into real e-tailers with the product tagging option.
Brands will be able to work with nano and micro-influencers who have a growing power on social media. Their awareness, authenticity and reliability will help them to reach new public. Moreover, brands will have access to an "insight" tab with performance analytics to see how the different UGC created performed.
Shopping from creators is only available for brands with Instagram Checkout, meaning that Instagram will earn a transaction fee from every sale. Automatically giving these kinds of posts more exposure.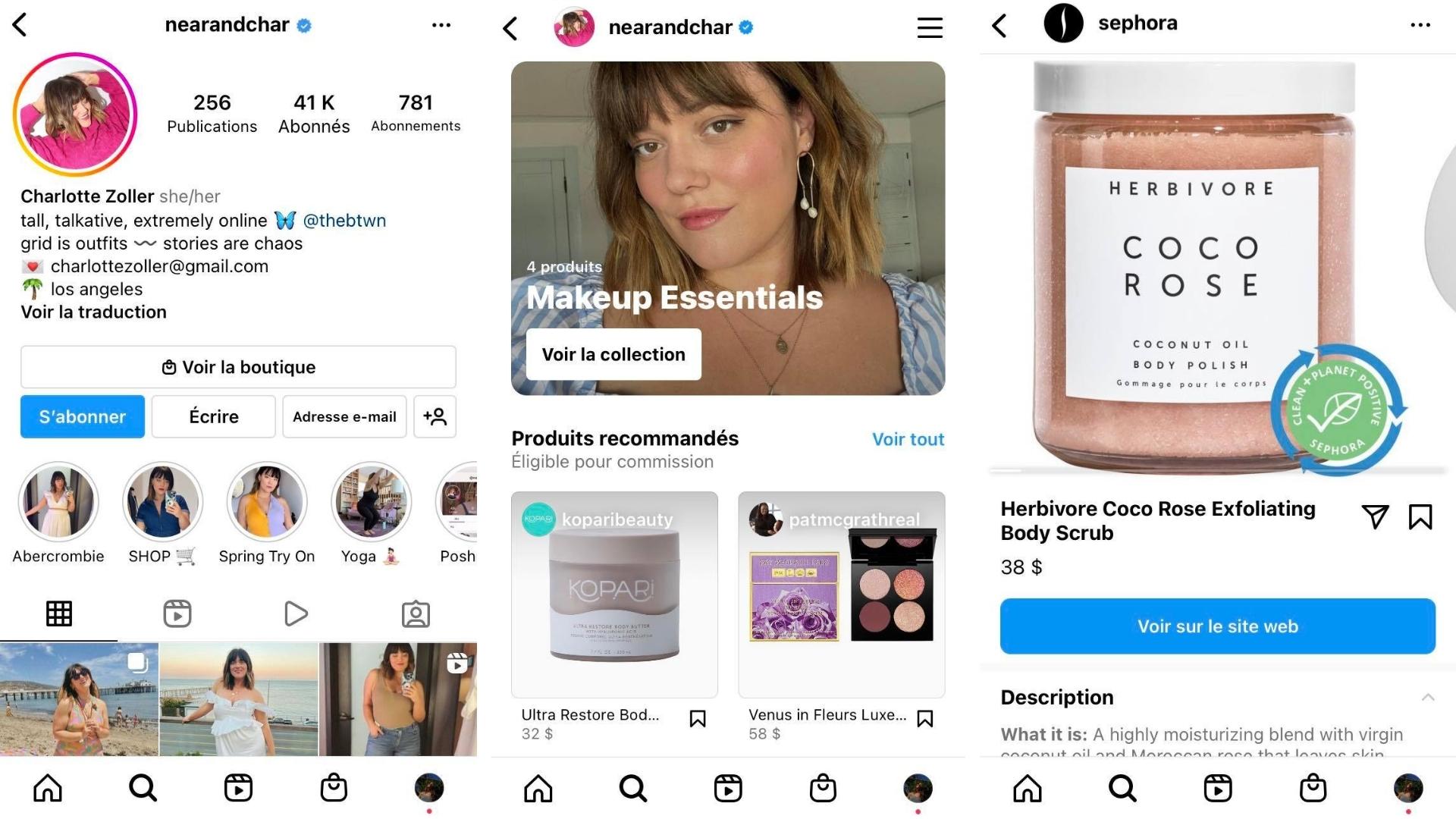 Charlotte Zoller is one of the American influencers that was selected for the "Affiliate" feature. In what Instagram calls her "boutique" you'll be able to find all the products & brands she recommends. You can then select one of the products of her catalogue and you'll be redirected automatically to the product page on the brand's account to make your purchase.
This innovation is still in trial and not available in every region of the world but will most likely push influencer marketing campaigns to a whole new level with more tracking options on the platform. If you want to get an idea of how Instagram will benefit your marketing plan, get in touch with our social media experts for a tailored made strategy!