Top 10 Influencers to know for the travel industry
Travel influencers play a major role in how we perceive and approach travel. Through their blogs, each post on Instagram, and other platforms, these content creators share their adventures and inspire millions of people around the world.
This article highlights the top international travel influencers who have attracted a wide audience through their extraordinary adventures. Their captivating stories, breathtaking photographs, and creative content push the boundaries of travel, virtually transporting their audience to incredible places.
Territory Influence invites you to explore their passions, unique travel styles, and the influence they have on their followers. Get ready to be inspired by the top travel influencers and bloggers who redefine the art of travel through their blogs, Instagram posts, and much more.
Top travel influencer in America
Jimmy Chin
Instagram : @jimmychin
American mountaineer, skier, film-maker and photographer. He loves to share his most beautiful photos and videos of his travels: mountains, sea, northern lights, he makes his 3 million followers dream on Instagram.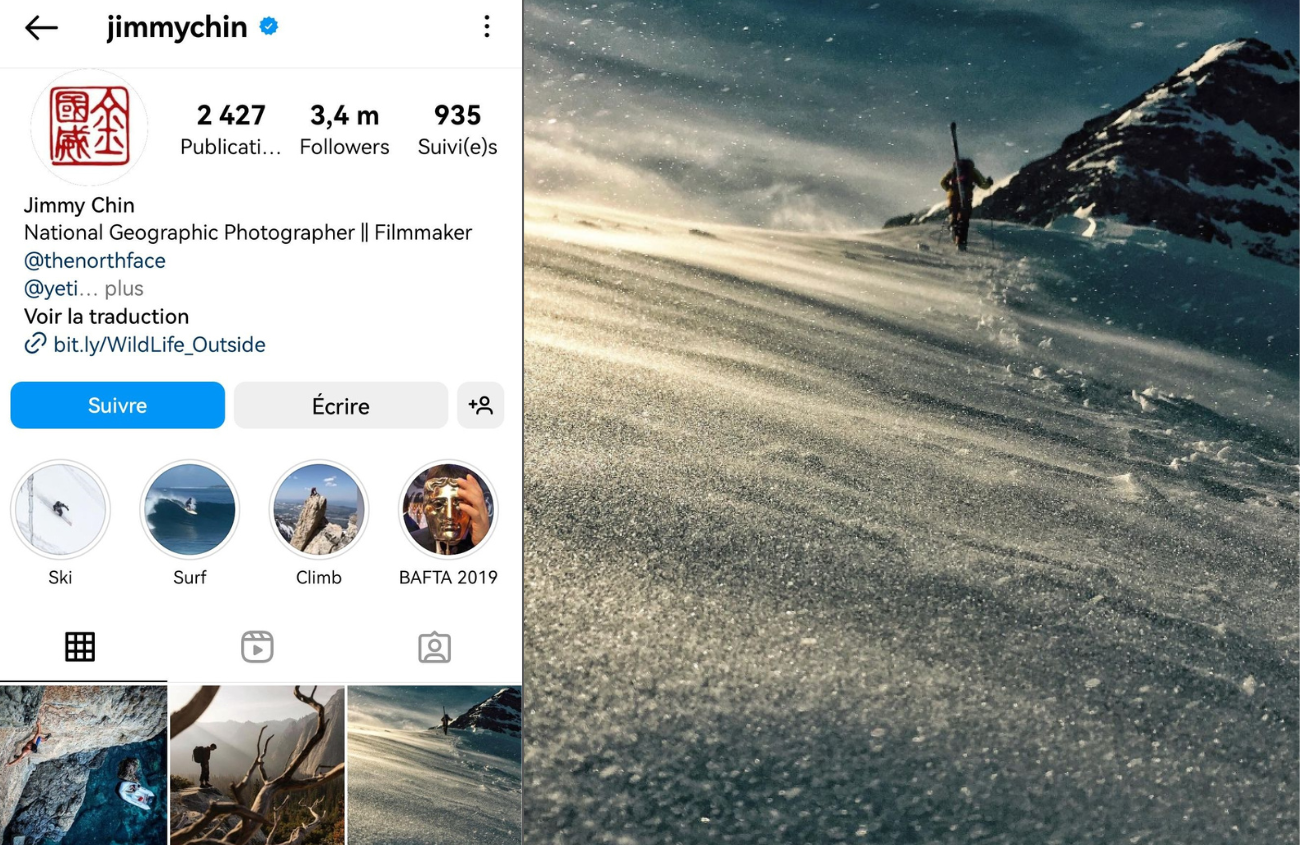 The bucket list family

Instagram : @thebucketlistfamily
TikTok : @the bucket list family 
Extreme travellers with their children, this family wants to create new family memories through their travels. They now have almost 3 million followers on Instagram and have also opened a YouTube channel on which they post a new video every Sunday, with over a million people following their adventures.
Cole Rise
Instagram : @colerise
Cole Rise is known for having launched four start-ups, for being one of the first employees of Instagram and also for his exceptional photography. Photographing people, places and the moon around the world, he shares his passion with a community of 800,000 people.
Top travel influencer in Australia
Helen_jannesonbense
Instagram : @helen_jannesonbense
TikTok : @helen_jannesonbense
Helen Jannseson- Bense has been developing her blog since 2016. It's packed with lifestyle and fashion content. But its biggest part is based on her travels around the world. Her Instagram account, which now has 708k followers, offers content with photos that are simply heavenly.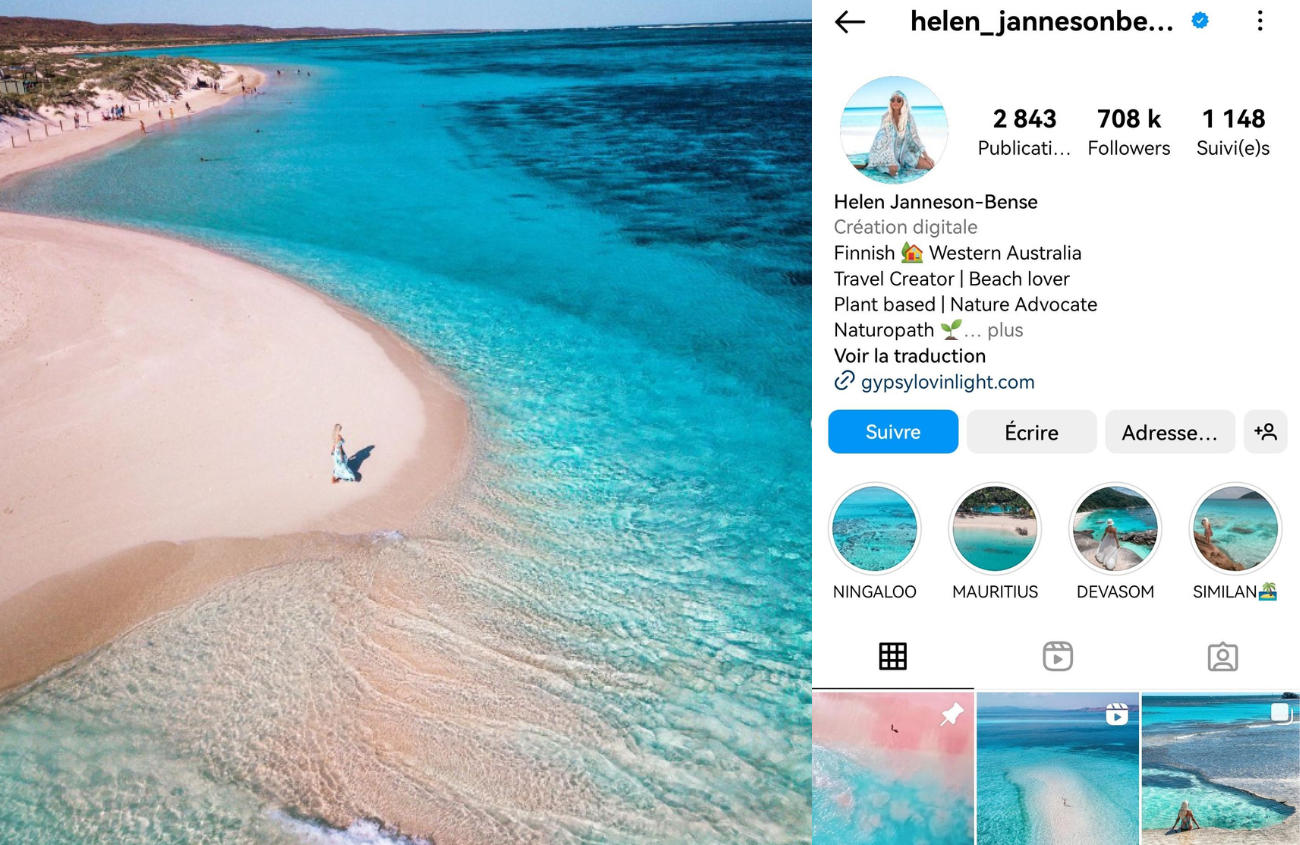 Top travel influencer in UK
Hand luggage only
Instagram : @handluggageonly
TikTok : @handluggageonly
Hand luggage only is a British blogger with 268k followers on Instagram. On his blog he shares content about food, photography and the many trips he has made. On Instagram, he posts photos of the places he has travelled to, as well as more personal photos with the people he travels with, which keeps things authentic.
Where.to.find.me
Instagram : @where.to.find.me
TikTok : @wheretofindme
Thanks to her job as a hotel appraiser, Maz can show off the most beautiful places in the world where she is lucky enough to work. She shares this on her Instagram account, where 381k people follow her adventures, and also on her TikTok, where 450k people watch her progress every day.
Girlvsglobe
Instagram : @girlvsglobe
TikTok : @girlvsglobe
Girlvsglobe has set up shop on three social networks: Instagram, TikTok and Youtube. She shows landscapes and makes food videos, her travels but also the differences in culture between countries. Girlvsglobe has published a book of tips on where to travel, how to travel, the best places to take photos…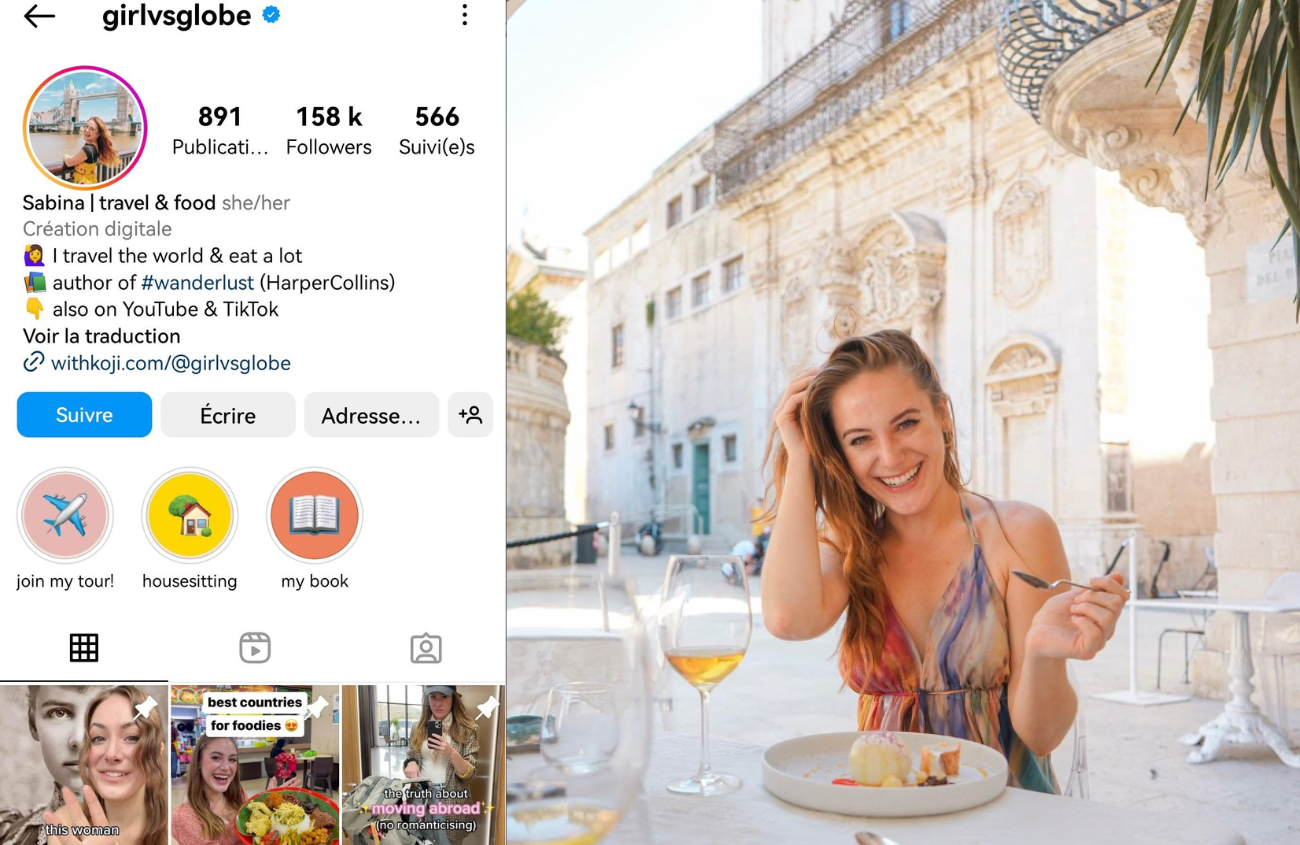 Alanisko
Instagram : @alanisko 
TikTok [Lien]
Alan Brutenic, a Briton now based in Prague, has visited 46 countries. He shares his travels with his 66,000 followers through colourful posts based on the seasons. He punctuates his Instagram account with personal photos with his family.
Parkingonthewildside
Instagram : @parkingonthewildside  
TikTok : @parkingonthewildside
Travelling Europe by Van, Laura & Aron showcase a rather bohemian lifestyle with some very floral content. On their 429k-strong Instagram account, you can read about the stages involved in fitting out their Van, their departure and their adventures over almost four years.
Kelseyinlondon
Instagram : @kelseyinlondon 
TikTok : @kelseyinlondon
A blogger and Instagrammer, Kelsey has created her own online travel guide to the countries she has been lucky enough to visit. 402k people on Instagram and 270k people on TikTok follow her daily adventures and the exceptional landscapes she shares.
To find out more about working with influencers and setting up influencer marketing campaigns, contact us below: