Whether you are looking for a recipe for cooking or a weekend activity, a beauty routine, or wedding tips, you can find inspiration on Pinterest and pin these ideas on Boards. The lockdown has shaken our habits and we are still trying to adapt to this new way of life. Yet, users are starting to look to the future with optimism and so research such as travel, event planning, summer holidays, and weddings are gaining momentum.
We no longer count the number of pins that inspire users on Pinterest, to the point where brands have found a new way to promote and develop their own visibility. Content creators share more and more content, in order to create a stronger community and sign partnerships with brands. With this new ecosystem in mind, Pinterest needs to respond to new demands and has recently announced the development of new features.
The state of Pinterest in 2021.
With its multitude of topics, such as DIY, food, beauty, fashion, travel… It is no wonder that the platform attracts no less than 459 million monthly active users (according to the recent Global State of Digital 2021, Hootsuit), and the audience tends to diversify since 2020, with more and more users from Gen Z (up 50% year-on-year) and "Millennials". The number of male Pinners has also increased by nearly 50% on a platform where women outrank men. This growth and evolution represent a vast number of opportunities for brands and creators; this is why Idea Pins was created to help both sides to better promote content.
Introducing Pinterest's Idea Pins.
Since September 2020, Pinterest has been testing a new feature in beta: Story Pins. This tool allows users to share video content in the form of "stories". For eight months, a group of influencers took this option so that Pinterest teams could develop it to the best of their ability. As of May 17, 2021, Idea Pins are now available to all in France, the United Kingdom, the United States, Canada, Australia, Germany, and Switzerland.
Story Pins are reinventing themselves to become Idea Pins. Its usage has increased fourfold since January 2021, according to data released by the app. Through this new name, Pinterest, which has strengthened itself in Social Commerce through a partnership with Shopify, wants to highlight the unique positioning of this new format compared to what currently exists on other platforms. With this new feature, Pinterest wants to promote even more inspiring content. "Idea Pins are distinguished by their educational and enriching long-term dimension when most platforms offer to share ephemeral content, especially via stories." says the platform.
As Pinterest explains, for users, they open up "the possibility of having permanent access to new ideas and positive inspirations to put into practice on a daily basis" and thus move from inspiration to action. For creators, they are "a tool to easily create inspiring and engaging content, since it will benefit from Pinterest's search engine that will offer their content to an audience looking for ideas."
New features, promoting ultra-personalized and inspiring content.
So everyone can discover new ideas and new creators, Pinterest is also rolling out a discovery feature, called "following streams" which will allow users to "discover the Idea Pins of the creators that correspond to them", directly at the top of their home page. In short, it will be customized content based on each user's interests. Pinterest also displays Idea Pins on the Today tab and at the top of the creator profile. They will be displayed in full-screen, to arouse the interest of Internet users and inspire them, with new features that focus on video and publishing (new fonts, filters, the ability to tag people, etc.) to allow content creators to be ever more creative.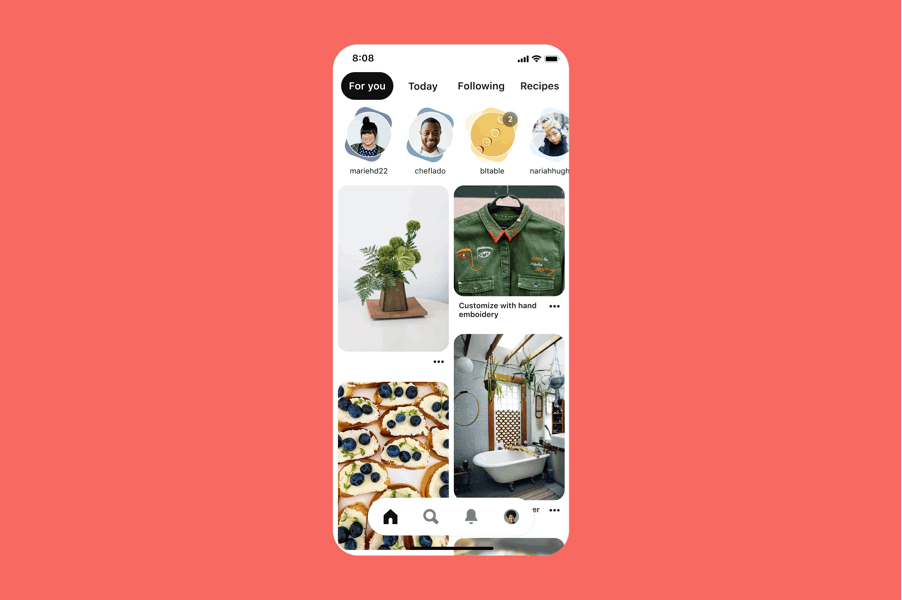 What are the benefits for brands & influencers?
Pinterest Idea Pins will bring 3 interesting aspects to collaborate with influencers on this platform:
The content will last in time, unlike stories, which maximizes the outcomes such as visibility and interactions.
The Carousel enables users to share several images or videos in a single post. According to a study by HubSpot and Mention unveiled in May 2021 about Instagram, this type of post ranks n°2 in terms of likes. Pinterest has decided to keep the stories format to imagine its carousels with up to 20 pages of videos.
And finally, it is easier to navigate between the different "pages". An ideal scenario for educational content when you need several steps and minutes to explain how to use a product, for instance.
Are you interested in addressing your target group through Pinterest? Test its new inspirational features? Our digital influencer marketing team of consultants is ready to help. Send us a short message!