We all know that the corona crisis has caused an all-time boom in the online trade world. For most of us, buying on the internet has become part of our everyday's life and now shopping strolls start on the e-commerce platforms instead of a mall.
What

 

has

 

concretely

 

changed

 in 

the

 online 

purchase

 

behaviour

 

of

 

your

 

consumers

 – after 1 

year

 

of

 

pandemic

?
To deeper understand which platforms do people prefer, how they engage with brands online and what influences them before they check-out, we at TERRITORY Influence launched a survey in our European nano influencer communities. After our first e-commerce survey in November 2020, we wanted to refresh our consumer insights and see what have changed since the pandemic has started more than a year ago.
Setting the focus on the rise of e-commerce is of particular interest to us as we've seen how influencers have become an essential component of today's e-shopping strategies – among other factors – through UGC, Ratings and Reviews or Brand Communities.
Thus, we are happy to share our results with you.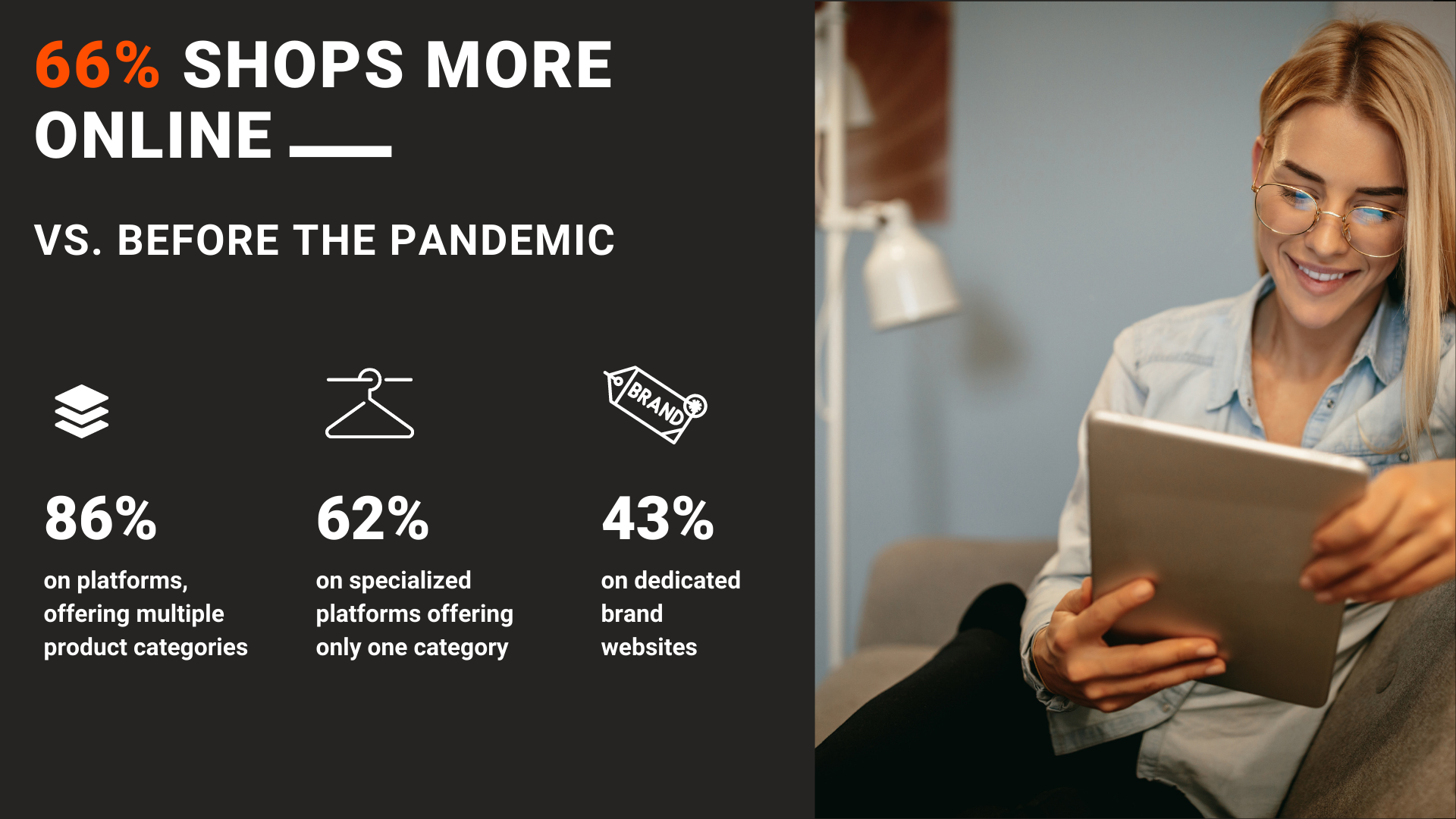 The results, based on
28k+

answers across Europe

 Nearly all of our respondents said that they shop online (98%). Compared to last year, 66% indicated that they purchase even more products or services through the internet. When asking about the frequency, 48% confirmed ordering something once per month, 36% once per week.

Focusing on the WHERE, 86% indicated to shop on e-commerce platforms which offer more categories, 62% on specialized e-shops (ie. fashion sites) and 43% on dedicated brand websites.

As nearly 50% prefer looking and purchasing products on brand websites, let's take a closer look into the reasons behind the statistics:
According to our respondents, brand websites are more trustworthy, they offer more (product) information as well as a better user experience (ie. payment methods). For 68%, the complete range of product makes the brand website their favourite. 44% said it's the additional package size (ie. bigger pack) that is the advantage. 42% mentioned the limited editions, and 41% the better content!*
When asking them about their expectations towards brand websites, 71% answered that they'd like to receive discounts and for 64%, ratings and reviews are crucial.
With having all shops closed in mind, we've seen an interest in asking specific questions on the brand websites: be it about the hygiene concept, size fit or technical information.
Brand websites are one thing, but what about brand advocacy programs?
51% told us that they hear about advocacy programs on social media, 43% from family and friends and 40% through newsletters. Interesting fact, as….
the main reason behind a subscription is for 74% are the privilages like free delivery or pre-sales offers. 68% prefer the exclusivity (like participating in special brand missions) and 48% the notifications to stay updated with lates launches or products.
Well-informed and involved in a community, the next step would be the purchase, right? So we asked again what matters for our respondents to complete their check-out.
80% check peer ratings and reviews before deciding on the final purchase. 67% get information on brand websites and 38% look for updates on social media before buying anything.
Digging even deeper into the reasons behind the importance of ratings and reviews, we discovered that 62% feel well-informed and safe in their decision and purchase action. So psychology is definitely playing along, especially since safety is a basic human need, and we all kind of lacked it during the pandemic in our private lives. It's completely understandable that where people can obtain security, they will do everything in their power to do so.
To our surprise, 89% indicated to publish ratings and reviews themselves – and 40% have even increased their actions of publishing since the pandemic.
Take-away
Nowadays, companies make a huge number of their sales on online marketplaces and so-called platforms, which is also in line with our results. On the one hand, more consumers are used to the new 'online' normal and, on the other hand, large and small traders can benefit from a rising e-infrastructure as well as new e-shop features.
Our findings confirm the fact that selling via online marketplaces and platforms is an indispensable part of any e-commerce strategy today due to the bundling of customers and demand, and that UGC – such as ratings & reviews – can make all the difference when it comes to the purchase decision.
Stay tuned and wait until we reveal more insights of our e-commerce survey and…
…follow us on LinkedIn for more infographics and number crunching 🙂 
*for those 4 stats, we have the basis of N=18,044 instead of the 28,159