As head of Instagram Adam Mosseri noted a few weeks ago, that the creator economy is incredibly important but highly unpredictable: there are currently a number of different ways for creators to make money, but a lot of them are changing rapidly.  
In early May, Zuckerberg announced that Instagram is testing NFTs with select creators in the United States. They will be able to share NFTs (made by them or bought) in their main Instagram Feed, Stories, or in messages. This feature will be soon applied also to Facebook, Zuck said. 
Let us look a little further and see what possibilities NFTs offer to content creators and brands. 
What are NFTs?
NFT stands for non-fungible token, and it is a digital version of a work of art, a song, a video game, or a collection of any kind.  
This digital version is unique and cannot be replaced by something else (not fungible). NFTs are registered into the blockchain, where the real asset and the token are linked by a smart contract. Whoever buys a work tied to a non-fungible token does not buy the work itself, but simply the possibility of proving a right to the work. NFTs can be bought, sold, and traded only using cryptocurrency. 
There are two ways to monetize NFTs: create them and then sell them, or buy them from the creators and resell them when the time comes. 
How content creators can leverage NFTs
NFTs open up a whole new world of monetization opportunities at scale for creators. The NFT economy is open to all creators, but certainly, those that already have their own audience have more opportunities to create a successful business.  
Why? Because right now the economic model of this sector is significantly different from that of social media.  
On social media, a creator is only paid once (or two times) to create a piece of content and publish it. The value here is the content itself and the engagement and reach it manages to produce.  
In the world of NFT, it works differently, because the value of such NFT is defined solely by how much anyone is willing to pay for it: it is entirely subjective. We are usually more inclined to pay for something if we are fans of the artist who created it, or if we recognize its present and future value. Indeed, once purchased, the NFT can be resold at a premium price and thus make a profit. The creator also benefits from each transaction, usually a 10% commission.
Where brands are set in the game
The metaverse has opened up new avenues for interaction between influencers and audiences: immersive experiences, virtual adventures, and (almost) tangible moments. 
NFTs are the means by which brands can create their own loyal community in the metaverse. In fact, many big brands have already put up NFTs of well-known creators for sale which, if purchased, give the right to access exclusive goods or services. So far, however, most brands have implemented the virtual-real approach: that is, by purchasing NFTs you have access to goods from 'our world': in-person concerts, branded merchandise, products, or goods to enjoy in material form. Others have instead opted for more immersive rewards, to be exploited in the metaverse. 
Again, the form of remuneration for influencers will change considerably: no longer a one-off fee but a commission every time the brand makes use of the content, or according to the performance of the campaign.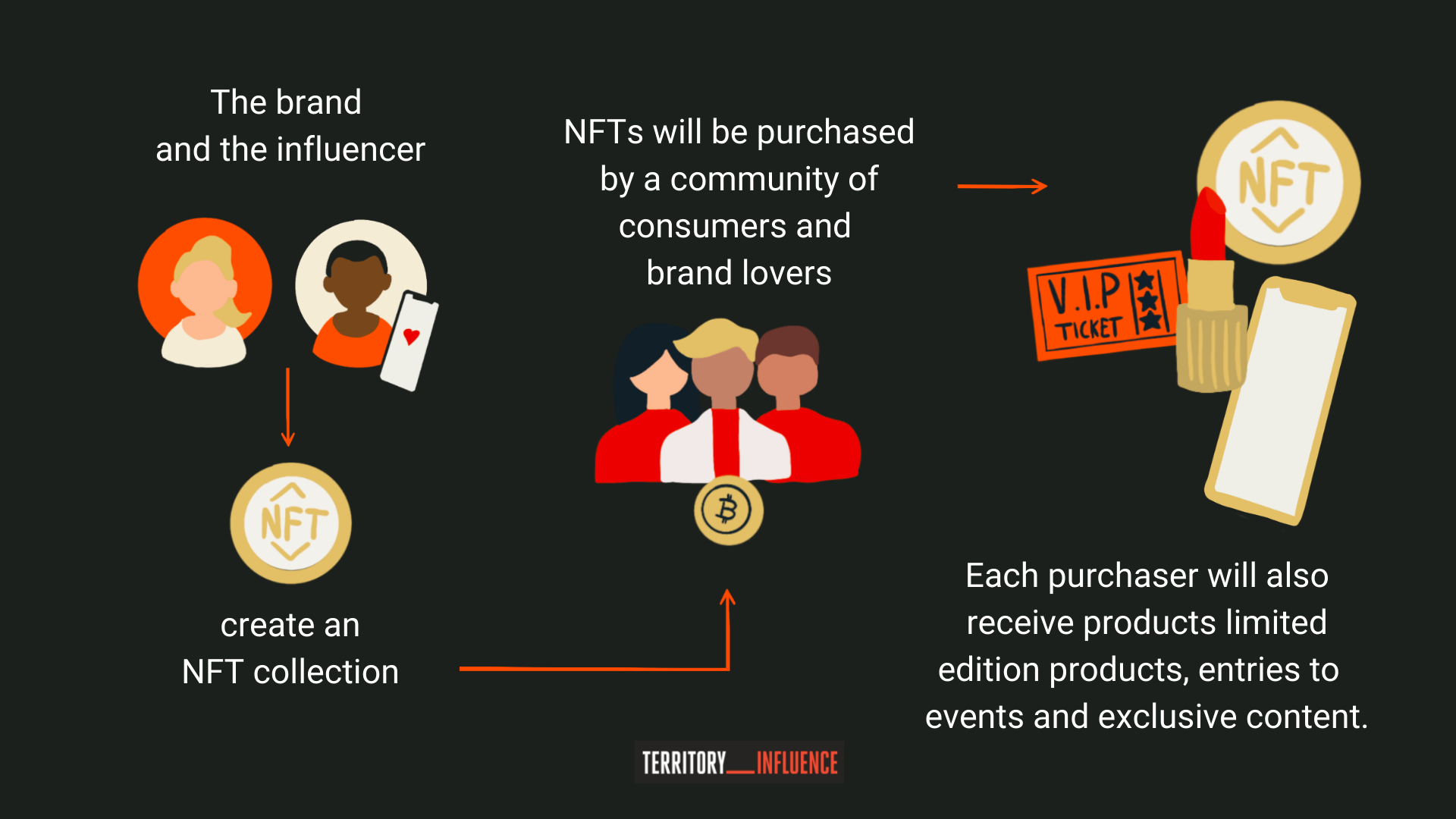 3 examples of how a brand can use NFTs
NFT as product 
Robert Mondavi, one of the most important wine producers in the United States, launched the first wine label sold for NFTs. Each NFT sells for $3,500 and, if you buy it, you can have a collector's bottle of porcelain wine. The entire creative process was done in collaboration with artist Clay Heaton. 
NFT as events  
The Coachella festival decided to make NFT the way its fans connect with the brand. Those attending the 2022 festival will also be able to purchase sets of tokens that will give buyers exclusive rights, like lifetime passes to the whimsical festival. 
 NFT to launch a new collection 
L'Oréal Paris created its first NFT collection and did so in collaboration with five female artists. All the works are inspired by the colour red, inspired by the Reds Of Worth Satin Lipstick With Saturated Colour collection that L'Oréal was launching at the time. 
Conclusions
NFTs are the tool that will weld the relationship between brands and creators, putting them on an equal footing and generating increasingly passionate communities of people. We are still exploring the countless functionalities of the metaverse and the new interactions between creators and audience. What we would advise brands to do is to start exploring the opportunities now, when experiments are permissible and a lot of A/B testing can be done. Drawing inspiration from brands that have already implemented NFTs can help to understand which modes are most appreciated by consumers at the moment: those that live in the virtual but remain permanently connected (at least for now) to the real world.
Are you curious about how your brand can ride the NFT wave?