What is BeReal app?
BeReal is an emerging photo-based social media that aims to differentiate itself from Instagram and TikTok through the authenticity of its content. 
Be Real was launched in 2019 by two French entrepreneurs, Alexis Barreyat and Kévin Perreau. But it was only in 2021 that it began to play a role in the known social media landscape. BeReal has been downloaded 27.0 million times, and most of the downloads are from this year. 

Last July, it was the most downloaded app in Apple's app store in the US. Many professionals owe this rise to the misstep of Instagram, which announced (and then retracted) its transition from a photo app to a video-dominated app.  
In this, Be Real differs drastically from Instagram and TikTok. Its stated purpose is to be an app for sharing real-life photos between friends. 
As they said: "BeReal is life, Real life, and this life is without filters." 
How does BeReal work?
Every day, at random times, the app alerts you when it is time to capture the moment you are living. BeReal's special photo camera is designed to take a front photo and a selfie simultaneously. 
From the moment of notification, you have two minutes to take and publish your content. If you do not do this, you will not be able to access your friends' content. 
Photos are visible to others for 24 hours. 
There is no 'Like' option, but users can react to postings with their RealMoji or an emoji featuring their selfie mimicking an emoji reaction. 
Will BeReal be the next social media for influencers?
As stated by the app itself:
BeReal won't make you famous. If you want to become an influencer, you can stay on TikTok and Instagram.
BeReal for now has only one function: to show reality. Usually, when something is so limiting in reality, it can be almost liberating. It's like when you have a menu with few options, you spend less time choosing.  
What users, especially the younger ones, appreciate is that they are free from the anxiety of perfection. You can be immortalized on a paradisiacal beach and the next day in your messy room, with no effects or retouching. 
This is a different and liberating concept: show yourself as you are, every day, without filters.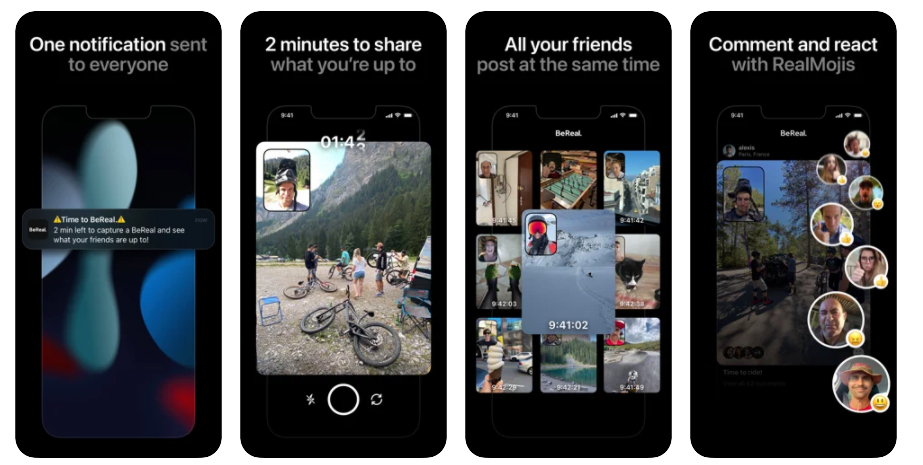 Another point that is very different from other apps is that BeReal tries to avoid the so-called "social voyeurs", making it so that to look at other people's content you have to participate in the life of the social. 
Are there opportunities for brands on BeReal?
Opportunities are always there for those who can see them. While a brand chooses its channels according to the target audience that uses them, BeReal can be a great asset for brands that want to connect with GenZ in an authentic way.  
There is (for now) no possibility to advertise on the platform, so we believe that the real strength here is to show the authentic sides of your brand, the ones that consumers may be looking for when buying.  
Showing the daily production of a product, the use of a service, without any particular advertising gimmick, is a new way of approaching the audience. 
The Chipotle brand on BeReal
Take the case of Chipotle, one of the first brands to sign up to BeReal. Chipotle displayed an offer code in its content for 4 days. The first 100 customers who used the code got a free entrée. 
"The response was incredible the first day," Candice Beck, Chipotle's director of social and influencer, told Retail Brew. "All of our codes were gone in about 30 minutes because it was new. And we're still gaining followers. We just told people, and then every day after that, it was under a minute." 
Certainly, there is a challenge regarding planning, while creativity is rewarded. It could why not, become the way some brands show exclusive content as behind the scenes of their business. Given the obstacle of the random timing in which content has to be posted, many brands might opt to replace the social media manager with an account managed by employees and partners themselves. 
We will see in the coming months how BeReal will grow and transform. And we will also see which pioneer brands will start testing the new authenticity app.