With around 4.48 billion social media users around the world in July (57% of the global population), people definitely still have an important interest in online activities and social platforms. Since platform usage is rising, the need for influencers is growing too. The digital and social media is a constantly moving sphere. What turned out to be true for 2021 may be very different for 2022. 62% of marketers plan to increase their influencer marketing budget this year.
48% of non-frequent users are interested in trying new platforms
Indeed, new platforms benefit from emerging popularity among users. With Facebook, YouTube, Whatsapp, Instagram and Facebook Messenger being the most-used social media, we would not be surprised if the 2022 ranking changes. We have witnessed an increasing interest in TikTok & Pinterest as they joined the TOP5 classification for "where to follow influencers". People are more and more interested in discovering new platforms.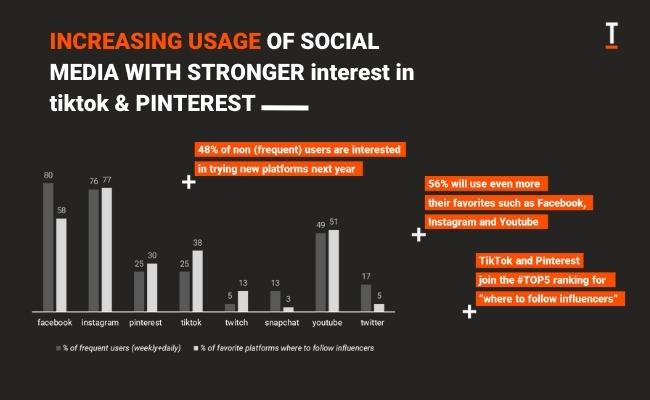 TikTok surpassed one billion users in September 2021 when it had only 689 million in January 2021. This makes it the 7th most popular social network in the world. If you exclude messaging networks, TikTok is the 4th most popular social network after Instagram. Furthermore, TikTok, as well as Pinterest, have introduced several useful business tools in 2020 and 2021, including business profiles, ads and a creator marketplace. This is why brands are more optimistic about it this year.
Short video is the winning format for 2022
It's not a surprise that TikTok is becoming more and more popular when we see that short-form videos are now the favourite type of content for people. All platforms developed and are still developing their own features after seeing the boom of TikTok. For instance, Pinterest with the Idea Pins, Youtube Shorts, Instagram Reels…
"75% of people spend time, every day or multiple times a week, looking at short videos on social media – mainly because it's entertaining (64%) and informative (34%)." (2021, Territory Survey, 52.500 respondents)
This type of content also became one of the first options and the favourite one in influencers' minds. Such as Bethan Thomas, British Micro-Influencer @bethantomo: "If I'm ever working with a brand or product, I tend to opt for short videos. It's my go-to especially when the brand asks me to communicate on Instagram. But also because the relation between me and my followers is really important and I want to show them more than just a photo. I want them to see why I'm using a product, how I'm using it. Saying it and seeing you use it is a whole different thing."
Embracing the latest innovations early is the key to a good leverage
"Everything depends on your objectives. You need to follow the trends and then align based on your goals. Adapt your content to each platform because they are all very different. You also need to use new features of the app as soon as possible so you can increase your reach significantly." explained Zoltan Palotai, Executive Director at Territory Influence, during our last Webinar.
Analysing where your main target audience is and will be to make sure to connect there, will make a difference in your digital marketing strategy. It's also very important to differentiate usage and influencer following depending on the typology you want to activate: e.g. Facebook relevancy for macro-influencers. To not miss any news about features and innovations on social media, be sure to follow creators and business accounts dedicated to each social media. Do some tests to see what's performing best for your brand and universe.
At TERRITORY Influence, we create unique strategies for you taking into account all emerging challenges and innovations. Interested?