Mark Zuckerberg follows the social commerce-first trend! With the new shopping features for Facebook, WhatsApp and Instagram, the CEO wants to take the next big step towards an e-commerce platform. According to its own data, the social network already has around 300 million monthly shop visitors and over 1.2 million monthly active shops on its platform. In keeping up with this trend, Facebook has planned to set the focus on more personalization during the shopping journey. Despite big brands, this should also support SME companies to get in touch with customers more easily.
What Facebook is planning to launch soon, you'll discover in this blog post:
What is planned for WhatsApp?
For quite some time now, brands have the option to offer their products on WhatsApp. Initially, a brand's catalogue needed to be shown via a company's profile. However now, there is a new button directly in the chat that allows brands to show the entire store within the messaging app. Customers can view and select the products in the chatbox and also order them via chat. They can also ask questions about the products and get advice. Facebook is planning to roll out this feature in more markets so that even more companies will have the opportunity to integrate their entire shop into WhatsApp.

What is planned for Instagram?
Most people already know about it: Instagram Shops – the shopping feature where brands use Instagram as an online shop window in full-screen format to position their brand and present their products in an attractive setting. On Instagram Shops, consumers can browse products, explore collections, and buy items directly – easy in the in-app-browser or -check-out. Besides this, Facebook wants to invest more in Augmented Reality (AR) and Artificial Intelligence (AI). For this purpose, a new visual search is being tested on Instagram, which is supported by AI. It helps users to find similar products. Also with the new AR experiences, products will be visualized so that customers can see them in "real" life – for example, by placing a visual couch into their own living room. In the future, users will also be able to select photos from their own camera to start a visual search. In parallel, AR try-on experiences will be integrated into IG Shops – through the API integrations of Modiface and Perfect Corp.
If you want to know more about Instagram's new features, check out our blog post about Instagram Live Rooms!
What is planned for Facebook Marketplace?
On Facebook Marketplace – the eBay of Facebook – every private user can sell, buy or give away products. Here the plan is to integrate personalized Facebook Shop ads. This, on the one hand, provides more opportunities for brands to connect with interested buyers and, on the other hand, more opportunities for Facebook to encourage browsing and buying. It helps users to set up shops, list their products in Marketplace and have them show up in related searches. In the U.S., payment in the Marketplace store is already possible with a simple one-site checkout.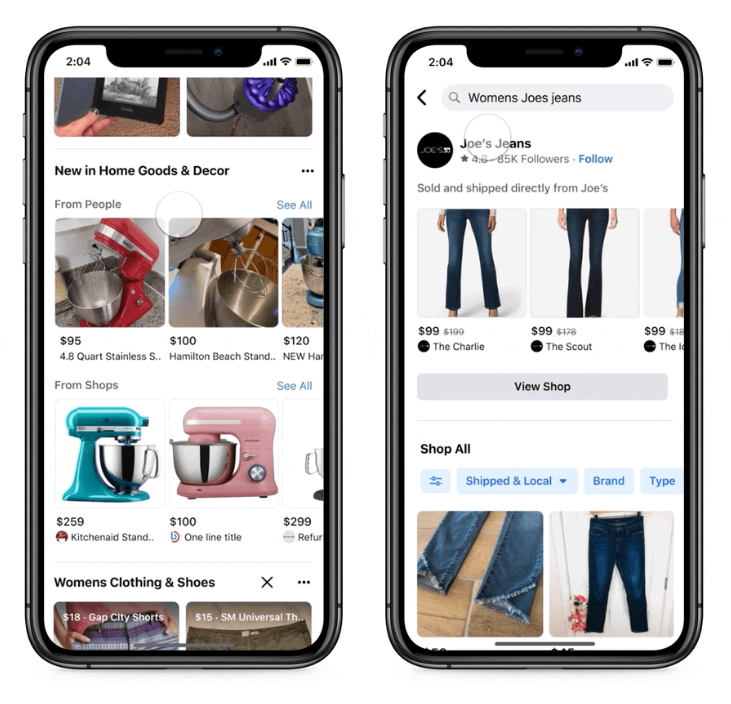 All in all: Personalization, AI & AR and Live Shopping
In a nutshell, Facebook is increasingly focusing on personalization, advertising with product tagging and visual search with AI and AR. The focus is always on guiding customers to where they are most likely to make a purchase based on their shopping behaviour. That all seems like really cool features and usability… to eventually become the largest social e-commerce platform?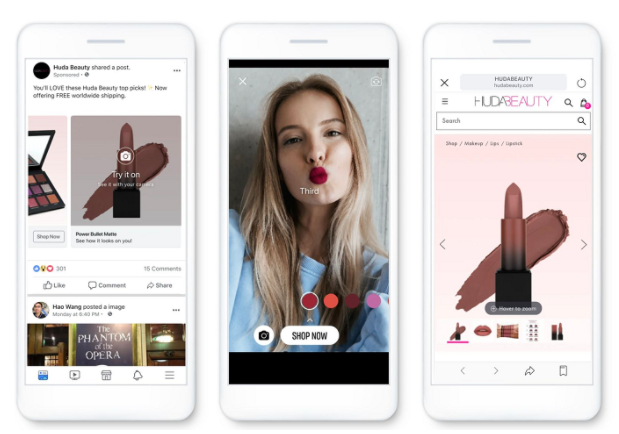 Now you, be a first mover!
Are you interested in reaching your target group via Facebook Shops? Take advantage of the new features and be a first-mover with your new Social-Facebook Shop.
Even though not all the above mentioned is yet rolled out or available in Europe, we keep you posted and are ready to kick-off pilots whenever the features are available in European markets, too.
By the way: Influencers can make your customer approach a human touch and more successful thanks to user-generated content and an emotional bond with their community! Our digital influencer marketing team is ready to support you with creative solutions! Just send us a message!