Augmented reality (AR) is one of the biggest tech trends you have to watch to leverage your 2022 marketing strategy. The pandemic really brought up AR in our homes and daily habits. Indeed, the sector is currently booming and experts say that it's only expected to rapidly increase with an estimated growth of $61.4 billion in 2023 according to Citrus Bits.
This innovative practice is the best new way to boost brand visibility and awareness. Here's why:
Help customer buying decisions: Try before you buy
With AR technology such as filters, for example, trying on products has been really easy recently. From makeup to glasses and bags, shoppers can model a wide range of products before making a decision. Snapchat has been a very useful display tool for brands during the Holidays season. The "Snap Holiday Market" feature was available on the app providing immersive AR experiences with storefronts from brands such as Amazon Prime Video, Coca-Cola, Hollister, Walmart… The platform also launched a new Lens on holiday shopping through Snapchat's Camera so people could try on and shop items from Fendi, Dior Beauty, NYX Cosmetics…
"68% of shoppers spent more time with products if AR was available." Retail Perceptions: The Impact of Augmented Reality on Retail 
Moreover, many companies update their websites or create demo apps with visual product configuration software so people can see if their future IKEA couch will fit in their interior for instance. By having the possibility to try on and visualize products thanks to AR, customers are more likely to finalize a purchase rather than with a simple online experience. Brands easily become customers' first choice when they're using new technologies to wow and entertain them.
"72% of shoppers purchased items they had not planned to purchase because of AR." Retail Perceptions: The Impact of Augmented Reality on Retail 
Grab customer attention
Furthermore, immersive and interactive augmented reality is more than a simple gaming tool, it helps marketers measure engagement and gives them solutions to drive more sales and innovations. With AR you can grab plenty of attention from your target audience in ways that traditional media like television, print media or billboards cannot do. Mixed-reality ads that create fun immersive and interactive experiences can lead to some important brand buzz. Big brands like Pepsi or Uber have used AR marketing tactics that provided them with millions of views on social media.
"70% of consumers agree that they're more likely to interact with AR-based advertising than traditional digital ads" AdWeek report
AR filters made in Territory Influence
At Territory Influence, our experts are developing tools that will push your marketing strategy to another level. For example, filters for Instagram, Snapchat etc. These seem as little gadgets but they can actually propel your campaign and help your message and content become viral. While we are talking about the upcoming Metaverse world, do not hesitate to observe what is happening at the moment in the tech sector. This could really leverage your brand and engagement. Create conversation, create experiences.
Below you can see an example of story filter available on both Instagram and Facebook made for the French biscuit brand ST Michel.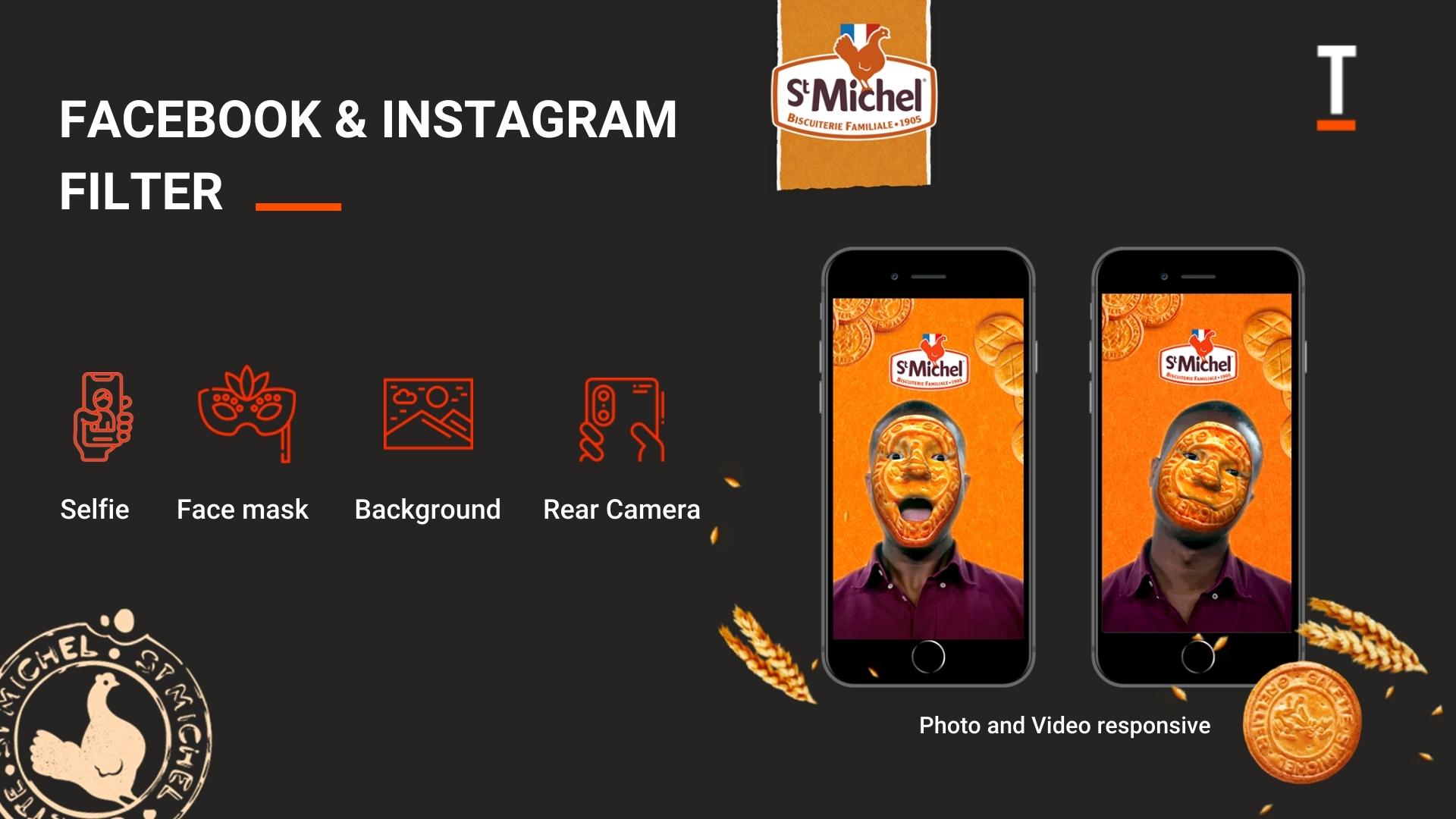 Augmented reality is no longer just a nice thing to have, from tracking consumer behaviour to creating deeper emotional connections, YOU need to jump on the trend. AR is a powerful tool, that when used in your digital marketing strategy will help you to drive sales, increase engagement and maximize budgets. If you want to have more information on the topic and see what our experts could do for you, click below: