With over 1 billion active users, TikTok is not only the platform of the moment for both consumers and brands, but also the most challenging for businesses. TikTok has recently launched the TikTok Shop feature in the United States as a first move towards social commerce. But what is TikTok Shop and how can your brand leverage social commerce opportunities on TikTok until the feature is rolled out worldwide? We got you covered. We share the latest TikTok Shop update and 5 tips for a TikTok Live Shopping session for you below. 
First things first: what is the latest TikTok update?
It's time for social commerce! After experiencing challenges with TikTok Shop in the UK, TikTok finally launched TikTok Shop feature in the United States in November. With e-commerce capabilities on the platform, TikTok aims to support businesses to grow by offering a great opportunity for brands to reach a wider audience, drive brand awareness and generate sales. In addition, it provides an accessible and convenient shopping journey for users in just one click.
What is TikTok Shop?
Similar to Instagram Shop, TikTok Shop is an in-app shop that enables users to browse products and purchase them directly on the app from videos or the brand's shop feed. Business accounts can set-up their shop by linking their website, run on the few eligible platforms such as Spotify.
This feature is only available in the UK, US and few Asian countries, and it seems to be just the start of social commerce on the platform. According to a TikTok Spokeperson, TikTok Shop launch is still in the early days and the teams are constantly working to improve this feature to support businesses and user journey on the platform.
"We are always guided by demand and exploring new ways to enhance the TikTok experience. We've seen the positive impact of TikTok Shop, and we're excited to continue experimenting with this new commerce opportunity to support businesses of all sizes and enable our community to discover and engage with products they love." TikTok Spokeperson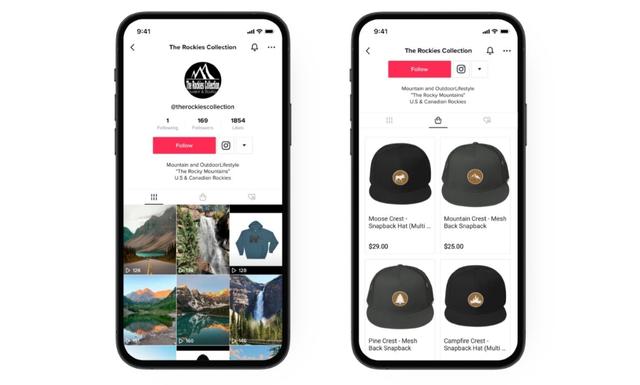 TikTok Live Shopping
But what can you do as long as there is no TikTok Shop available? No problem: You can still lead directly to your brand e-commerce shop or retailer through TikTok. One way to push that and to drive traffic to sites where people can buy your products is the TikTok livestream feature. With this you can offer users a Live Shopping experience.
It is a great way to reach and target younger audiences, and especially Gen-Z since 40% of Gen-Z have bought at least one item or service while watching TikTok livestream.
5 Live Shopping Tips
1. Livesetup: Use a professional studio for your live shopping event. Opt for a room or studio with natural light, big windows or a professional lights setup for the perfect lighting. Additionally, add personal touches and design to the room to strengthen brand identity but also to make yourself memorable in the eyes of the consumers. Lastly, use a high-quality video recording equipment – it doesn't necessarily have to be the latest camera, mobile phone such as the last iPhone models are reliable and offer great quality to get you started.
2. Showmaster: If necessary, book a moderator in addition to the influencer in order to have a professional equipment for the entire event, but also to manage the conversation and assist with managing comments from viewers. The moderator can even be a colleague from your team, maybe the person managing the social channels or engaging in community management.
3. Storytelling: Interesting & engaging, build a tension curve into the event and the moderation. Build your storytelling by leveraging product tutorials or demonstration and holding Q&A session. Gamify the experience to keep the users engaged and personalize their experience. For example, if your brand is selling fashion, prepare a capsule collection or style a garment in different ways for different occasions. Ask the audience questions: what clothing would they like to see first, do they have any outfit requirements? Personalize their experience in a gamified way, allowing them to be an active participant and creator. This would lead to genuine live shopping engagement and higher emotional bond with the brand. We share more trending content ideas for Livestream here to help you build your storytelling.
4. Exclusive Incentive: Make your virtual shopping trip even more appealing and offer your viewers an attractive incentive. Discount, offers and limited-edition products are great ideas to drive users to your live shopping event and generate conversions. Limited product drops only available during the live stream, and new product or collection launches are also other alternatives that would raise consumer's interest and curiosity.
5. Teasing: Announce your event across platforms and media, use a landing page and have influencers accompany it on social networks. Don't forget to create a countdown effect to keep people being excited about the upcoming stream!
Do you need help with your TikTok strategy? Get in touch. We'll be happy to assist you.