The podcast market is experiencing a noticeable boom these last few years. The Interactive Advertising Bureau (IAB) is predicting that podcasts ad revenue will hit $2 billion by 2023, well above the $842 million generated in 2020.
The positive momentum of podcasting is enticing more and more celebrity involvement (Oprah Winfrey, Emma Chamberlain…). They use it in addition to social networks for influence. But brands such as Carrefour in France have also participated in an awarded podcast "Retail agile" in 2021. The podcast format, therefore, has its place in an influencer marketing campaign, both in BtoC and BtoB. It offers brands an opportunity to widen their audience by co-branding some episodes.
But why podcasters are a must-have in your influencer marketing strategy?
Reaching niche communities
We recently witnessed a rise in the number of people not feeling represented enough in the media. Indeed, people are looking for content that accurately illustrates their life experiences. Moreover, the increased popularity and engagement towards podcasts opened a wide range of possibilities and opportunities for people. In that way, they can find the topic they needed to feel understood and not alone. Subjects like the Black Lives Matter movement or society subjects as such have contributed to the boom of podcasts.
"Black listeners are streaming more audio and averaging a 73% brand recall for podcast ads, while podcast listening has doubled in the last three years among Hispanic listeners in the 25-39 age range" Nielsen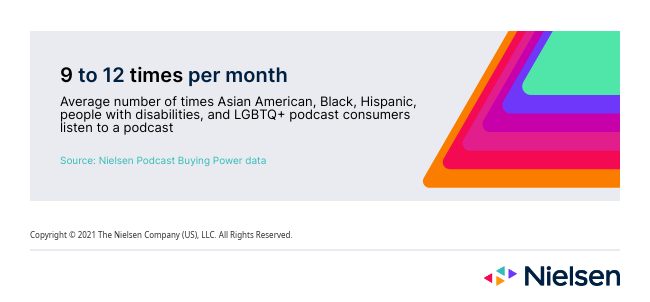 Indeed, this type of content is specifically working to reach diverse audiences, usually young.
"49% of U.S. citizens between 12 and 34 listened to a podcast in the previous month — followed by 40% of people ages 35 to 54, and 22% of people ages 55 and above." Edison Research
In order to align your brand with niche interests or communities in an authentic way, find podcasters & influencers whose background will resonate with the audience targeted.
Building authentic and trustworthy endorsement
The audiences we mentioned just above, have a strong desire for authenticity and to listen to inclusive topics from trusted & credible voices with similar backgrounds.
Most of the time, when listening to a podcast, it feels like we are assisting to a kind of private conversation between several people. This contributes greatly to creating a real community of listeners, subscribers and followers which conveys a sense of belonging and leads to even more authenticity. In addition to its authentic aspect, what makes podcasts even more intimate is the fact that they are "consumable" wherever you want, whenever you want. As it isn't live, unlike Clubhouse, it enables users to have the entire control over what topics they listen to and integrate it into their daily life wherever it fits.
Podcast influencer marketing gives the influencer or brand a real opportunity to talk about the product's benefits in a more legitimate & trustworthy way than a simple static photo on Instagram for instance. Here we're not saying that podcasts should replace social media, but they should definitely be used together for a super reach and to generate qualified leads. In 2022 at least, they are complementary.
Having longevity in people's mind
The fact that it is a spoken type of content can be more efficient to stick in people's minds than as we said before a still image.
"In 2020, 49% of Americans (18+) who listen to five or more hours of podcasts weekly, agreed that podcasts were the best way for a brand to reach them, which is a 12% increase from 2019." Edison Research
Podcast listeners are usually paying more attention to the ads because they appear more positive for being mentioned by their favourite podcaster, influencer or show. Most of the time, they truly embrace the inclusion of brands in the content. Especially when it's an organic type of ad that is directly placed into the conversation in the speaker's own words and that is not scripted for most parts. These kinds of ads also drive stronger brand recall.
"Host-read ads drive a brand recall rate of 71%, which subsequently creates high levels of consumer interest, purchase intent and recommendation intent. Podcast ads generate 4.4X better brand recall than display ads, and 61% of consumers who heard a podcast ad were more likely to purchase the featured product." Nielsen's Podcast Ad Effectiveness (PAE) solutions
The growth of podcast engagement shows no sign of slowing down. So if you want to offer new effective and authentic ways for your brand to be in people's minds, hop on the podcast trend. According to a recent Nielsen survey, 61% of paid streaming audio subscribers plan to increase their podcast consumption over the next 12 months. At Territory Influence we believe that paid partnership with podcasters can provide a unique type of diversity to your marketing efforts and increase your brand recall. Interested? Click below to see what our experts are able to do for you.